Ubisoft Steep XGames 2020 Season 14 is now live! We streamed on YouTube how the easiest way to get the Steep XGames Week 1 rewards. These include X-Games Scarf, Skis, Wingsuit, and Jacket.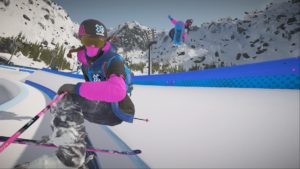 You know what is also pretty cool this season? My Season Special! Ubisoft Annecy put my shared dare for everyone to play. Head over to Alaska and open your Events Menu, scroll down til you see Season Special gnarlyDUCK! I hope to see you on the leaderboard for my challenge.
Complete this weeks challenges for these rewards. Finish 5 playlist for multiplayer pvp, complete freerider challenges on Alps, and score high in Alaska. See ya around, please comment any questions on my YouTube Channel.
If this is your first time meeting me, thanks for stopping by! I'm glad you found me, and I hope you are liking Steep or another game I also play. But I do assume you are here for Steep content! Awesome! I'm now also found streaming weekly on Twitch. I started last week with a 12 hour marathon and streamed Steep starting from Level 1. If you are looking for a playthrough or walkthrough of Steep, this is the place to be. I'm not quite yet done with the Alps, so I hope to catch you in the chat sometime as I crush these challenges once again.